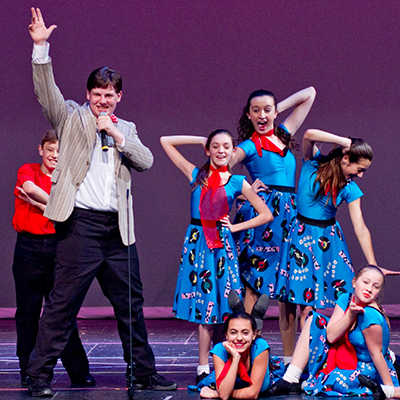 Musical Theatre
Musical Theatre introduces students to the songs of Broadway Musicals. Classes consist of a brief warm-up, learning the repertoire of Broadway show tunes, acting and staging techniques. This course is devoted to the enjoyment of musical theatre and an appreciation for Broadway musical productions.
Performance Ensemble
Performance Ensemble is a weekly, two-hour class comprised of Theatre Dance, Musical Theatre, Acting and Vocal Coaching. Classes run for two 12-week sessions. The first is technique based, focused on building skills in all areas of performance. The second session is performance driven, giving students an opportunity to enhance their acquired skills in developing a deeper understanding of character, style and staging, culminating in a public, final performance.
Junior Ensemble is for 3rd, 4th and 5th graders, Intermediate Ensemble is for 6th, 7th and 8th graders, and Senior Ensemble is for high school students. Admission is by audition only.