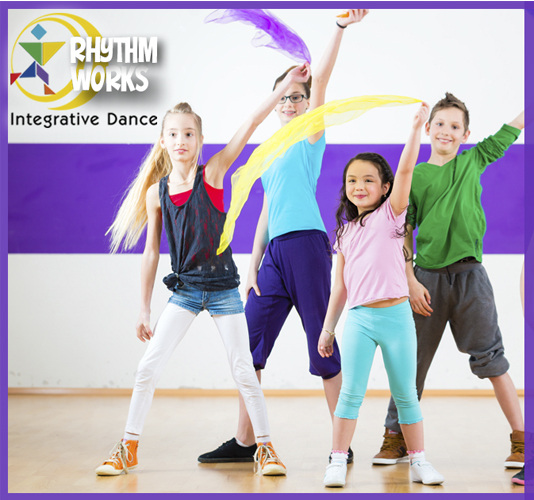 Rhythm Works Integrative Dance
Rhythm Works Integrative Dance is a ground-breaking rhythm and dance class for kids ages 7-14 with autism, Down syndrome, sensory processing disorder and other individual learning differences and physical challenges. The program uses evidence-based therapeutic practices to achieve developmental goals. To our students, it's a fun and exciting activity that provides participation and socialization opportunities. It incorporates elements and strategies that best support your dancer's needs and learning style. Each registered student is encouraged to bring an assistive buddy at no extra charge. This buddy could be a parent, therapist, sibling or friend.
Class Schedule
Rhythm Works Integrative Dance is held on Sundays from 12:00 – 1:00 p.m. and 1:30 – 2:30 p.m.
This class runs in ten week sessions. The Coupé Studio Calendar provides information on all holiday closings that would affect this class.
Pre-registration is required.
Fees
Pre-registration is recommended.
$20 per single class
$180 for a ten week session
Dress Code
Dress Code
Comfort is key. Please wear clothing that is comfortable, that the child can freely move, bend and stretch. Socks are acceptable on their feet, as well as jazz shoes, ballet slippers, or sneakers with clean soles.
Instructor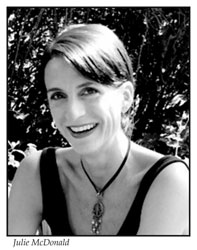 Julie McDonald has been teaching at Coupé Theatre Studio for 14 years. She teaches tap, jazz, and acro to students ages six through adult. Julie also has a background as a certified Pilates instructor. She has volunteered her time to local elementary schools, where she directed original musical theatre productions and taught dance classes for after-school enrichment programs. Julie has traveled the world performing professionally in various musical theatre productions (Will Rogers Follies, Bye Bye Birdie, A Chorus Line, Tokyo Disneyland) and is proud to be a former Radio City Rockette. She had the honor of performing those famous eye-high kicks at Radio City Music Hall for nine years. Julie is a certified Rhythm Works instructor for children with special needs, and looks forward to sharing the magic of music and dance with all different types of learners!
Registration
Pre-registration is required. Please visit Coupé Theatre Studio during business hours or download form and mail in with payment.
Download the Coupé-Rhythm Works Integrative Dance registration form here.
Studio Business Hours:
Monday                                               3:00-8:30 p.m.
Tuesday through Thursday     9:30 a.m-8:30 p.m.
Friday                                                  3:00-7:30 p.m.
Saturday                                     8:30 a.m.-4:30 p.m.